"Damn Texans!" shouts some menace in the mob of locals zooming past, jumping over the minefield of downed skiers on Lower Deep Freeze.
The visitors can only watch in pure terror as the group of mad skiers and snowboarders charge past them at full-speed as they're attempting to recover their scattered skis and poles on one of Ski Apache's most notorious green trails that starts as a bottleneck behind Chair 4.
Ski patrol has been trying to apprehend this group of wintertime bandits all season long, and they'd probably snag all of their season passes if any of those weekend redcoats could actually ski.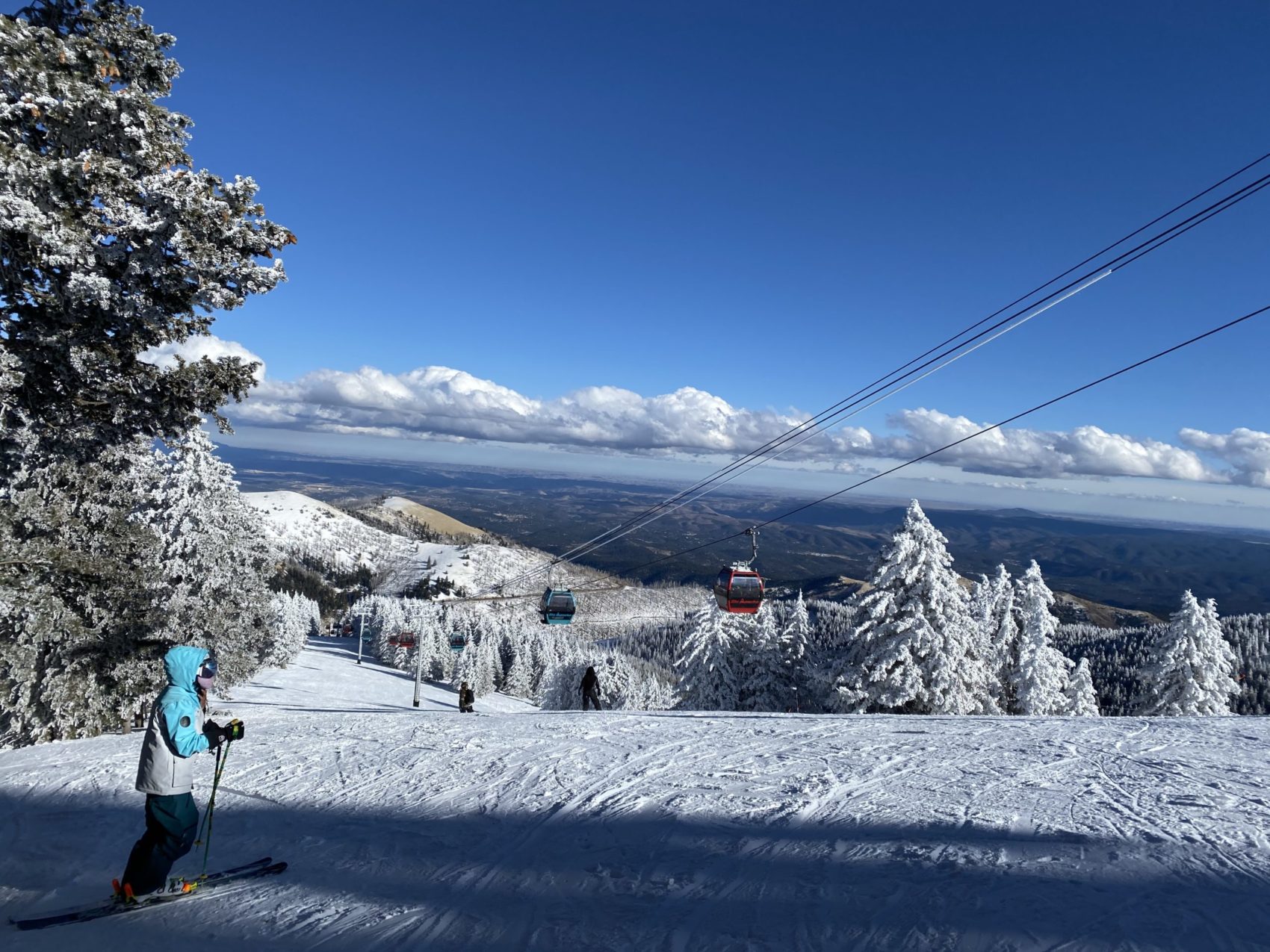 A view from the top of Ski Apache. Skier: Alex Davis. Photo: SnowBrains.
Lo and behold Ski Apache, situated in the bosom of the Sacramento mountain range in southern New Mexico near the sleepy town of Ruidoso, where the lion's share of skiers ski in jeans, cowboy hats, and fur coats.
Ski Apache — nicknamed 'the Patch,' because on low snow years that's all you get to ski — is a place where the term 'powder panic,' has an entirely different meaning. Because when the snow starts flying here, visitors panic and turn around because there's "too much snow." Keep in mind that it doesn't always dump at the Patch, but when it does, it DUMPS.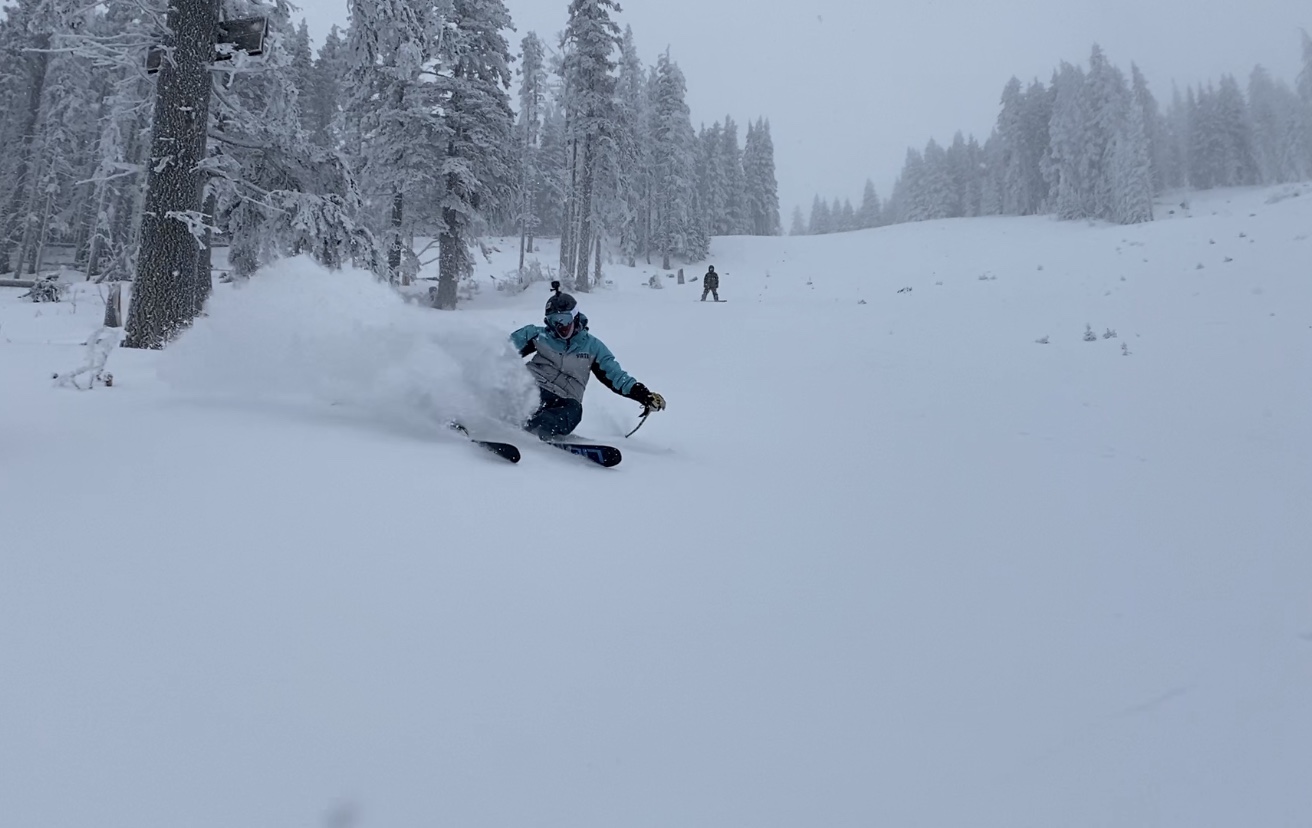 Local skier Alex Davis rips down 'Incredible' at the Patch after a snowstorm. Photo: SnowBrains.
Ski Apache rests on Mescalero-Apache reservation and is owned and operated by the Tribe.
On any given long weekend or spring break, it can seem like all of West Texas has relocated to Ruidoso — the place where I grew up skiing and where I call home. It is a place sacred to me, a place where my life has changed more times than I can count, and a place where my life was nearly ended when I was 17 (shoutout to Mike Luna and the other ski patrollers for saving my life in 2014, I was only kidding about the patrol-related remark earlier in this piece, c'mon guys).
It is a place of happiness, a place of good times; where all the locals know each other — whose kids go to school with one another.
It's a place of magic, for lack of a better word.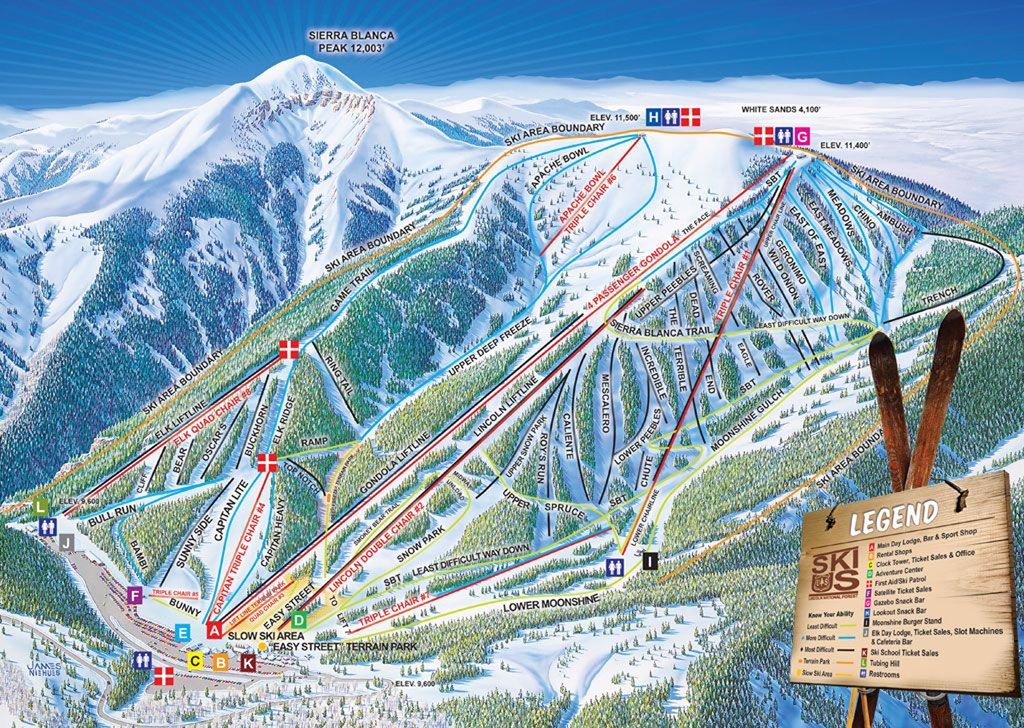 Ski Apache trail map.
With eight chairlifts, including a relatively new high-speed gondola and an all-season Snowfactory, Ski Apache is a fun, flowy mountain with some of the most captivating views in all of New Mexico.
From the top of Apache Bowl, you can see white-capped, forested mountains on one side and then white, sand duned-desert on the other. The place doesn't really make sense, but hell, it's beautiful.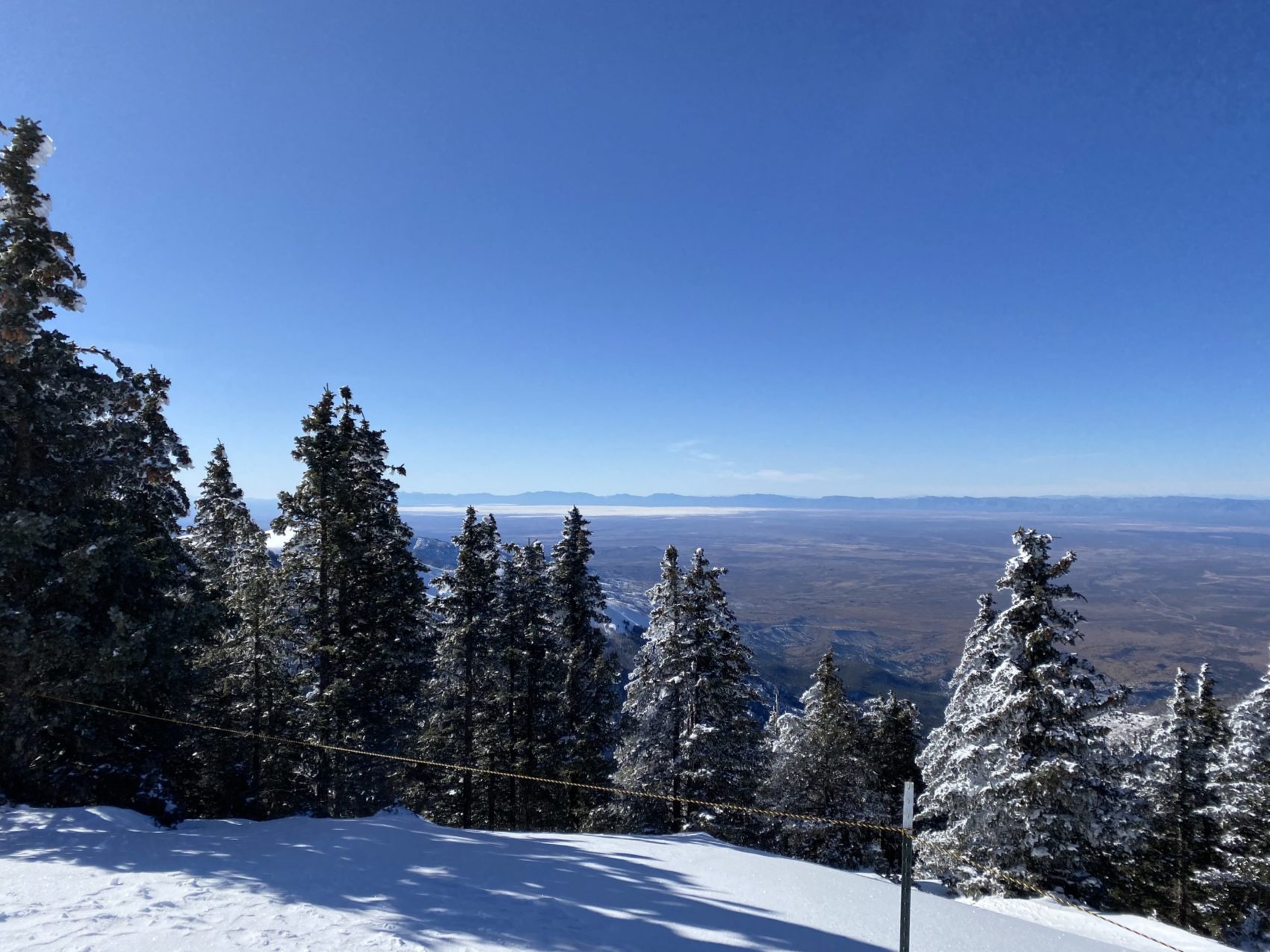 See White Sands out there in the distance? That's where the first atomic bomb was detonated at the
Trinity Site
in 1945... Photo: SnowBrains.
If you look closely, you can actually see the site where the first-ever atomic bomb was detonated back in 1945.
The whole mountain range is an oasis in a hostile land, where once invaders came and fought off the locals to settle the territory. Sure, they robbed them of this pristine area, home to rivers, lakes, mountains, and way too many damn elk for anybody's own good. But I just thank God that someone had the sense to put a ski area here back in the day, when the ski area officially opened on December 23, 1961, after
a seven-and-a-half-foot snowstorm delayed the initial opening of the ski area by a week
.
A view of Sierra Blanca from Apache Bowl at Ski Apache. Sierra Blanca is the region's' tallest peak resting at 12,003'. Photo: SnowBrains.
For as long as I can remember I've been skiing here.
Momentous powder storms would stack snowbanks that towered over my head as a kid. My brain is also packed with memories of the too-perfect bluebird powder days that would
always
follow after those dumps. On one day, it'd be dumping so hard with wind speeds so high that you could swear the mountain gods were trying to kill you. On the next, you couldn't even feel a breeze or hear a sound other than your skis slashing through low-density powder in the snow-ghosted trees.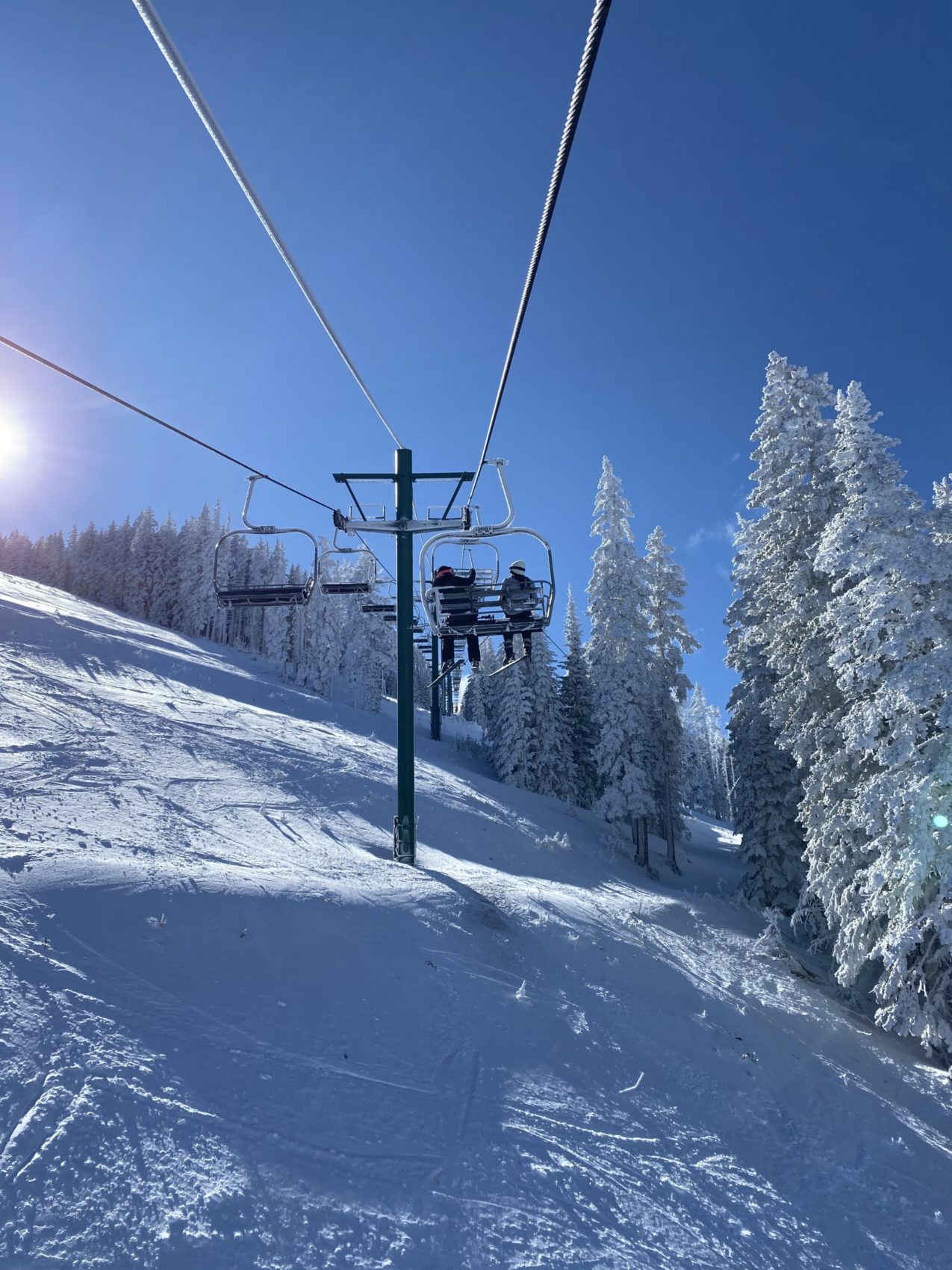 Chair 1. Photo: SnowBrains.
It's a spiritual place, especially for us locals who know all the good spots in the trees off of Chair 1.
Chair 1 — that's the place to be on a powder day because that's where the Patch's hardest black diamond runs are, meaning that's where the least people will be skiing.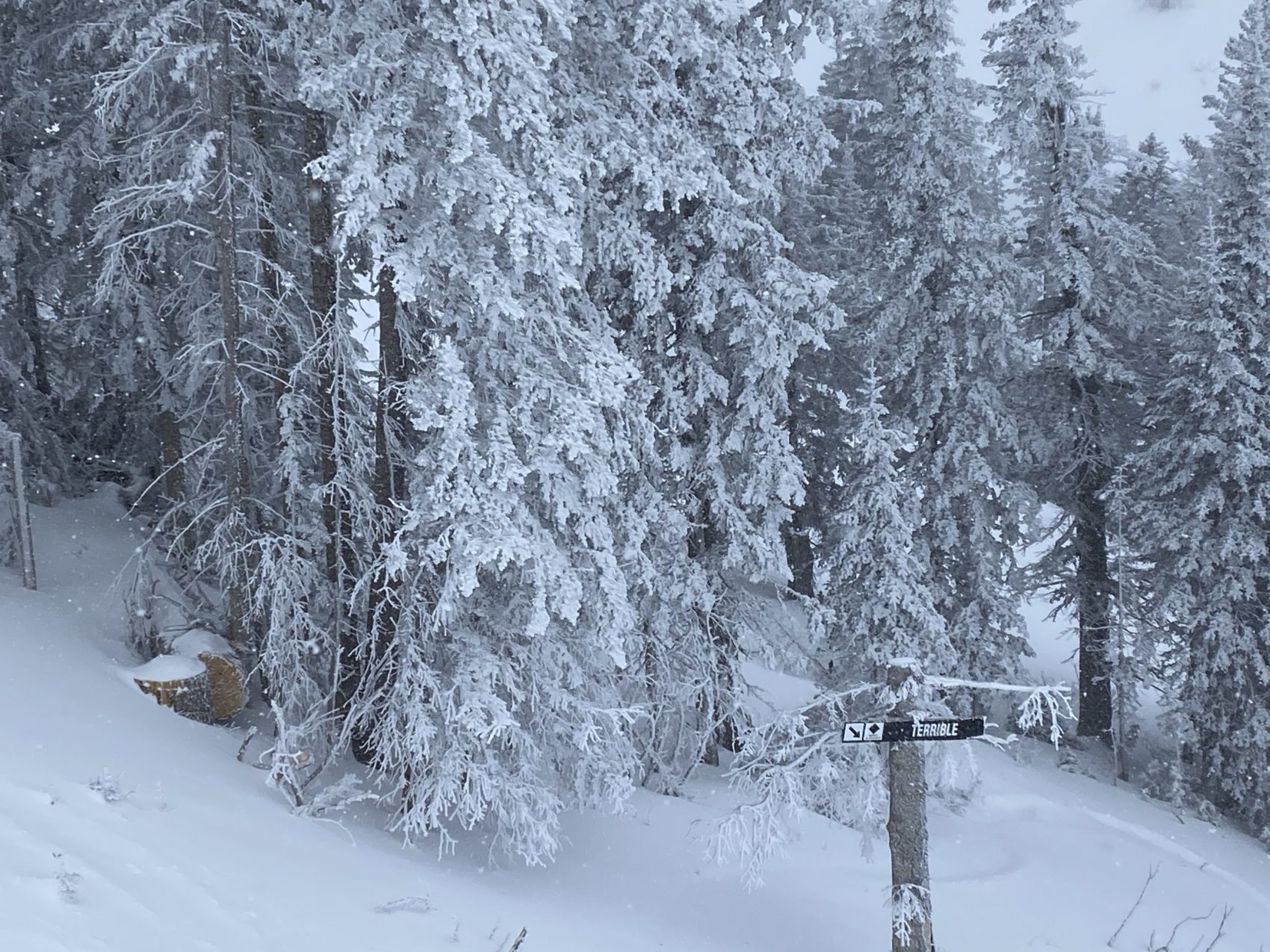 '
Terrible' really ain't so bad... Photo: SnowBrains.
On a true powder day here, you feel like you have the whole Chair 1-side to yourself.
You'll be ripping freshies all day and probably the next day, too — and maybe even the one after that! When I went back home for Christmas and skied the Patch last season, we were blessed with about a two-and-a-half foot storm that made for some fine powder skiing down runs like 'Incredible,' 'Mescalero,' and 'Terrible.' When I got on the gondola with a long-time local this day, we were both on the same page as to what was ripping.
"I've been skiing at Ski Apache since I was four years old which would be about oh.. 45, 46 years... 'Terrible' is the run of the day today." — Tim Keaton
For three straight days around last Christmas, Tim and I skied fresh powder with my father and several other long-time ski bums.
It was refreshing, especially after spending the start of ski season in Utah where you have to fight tooth-and-nail for your powder turns in Little Cottonwood Canyon. Here, it was all yours for the taking.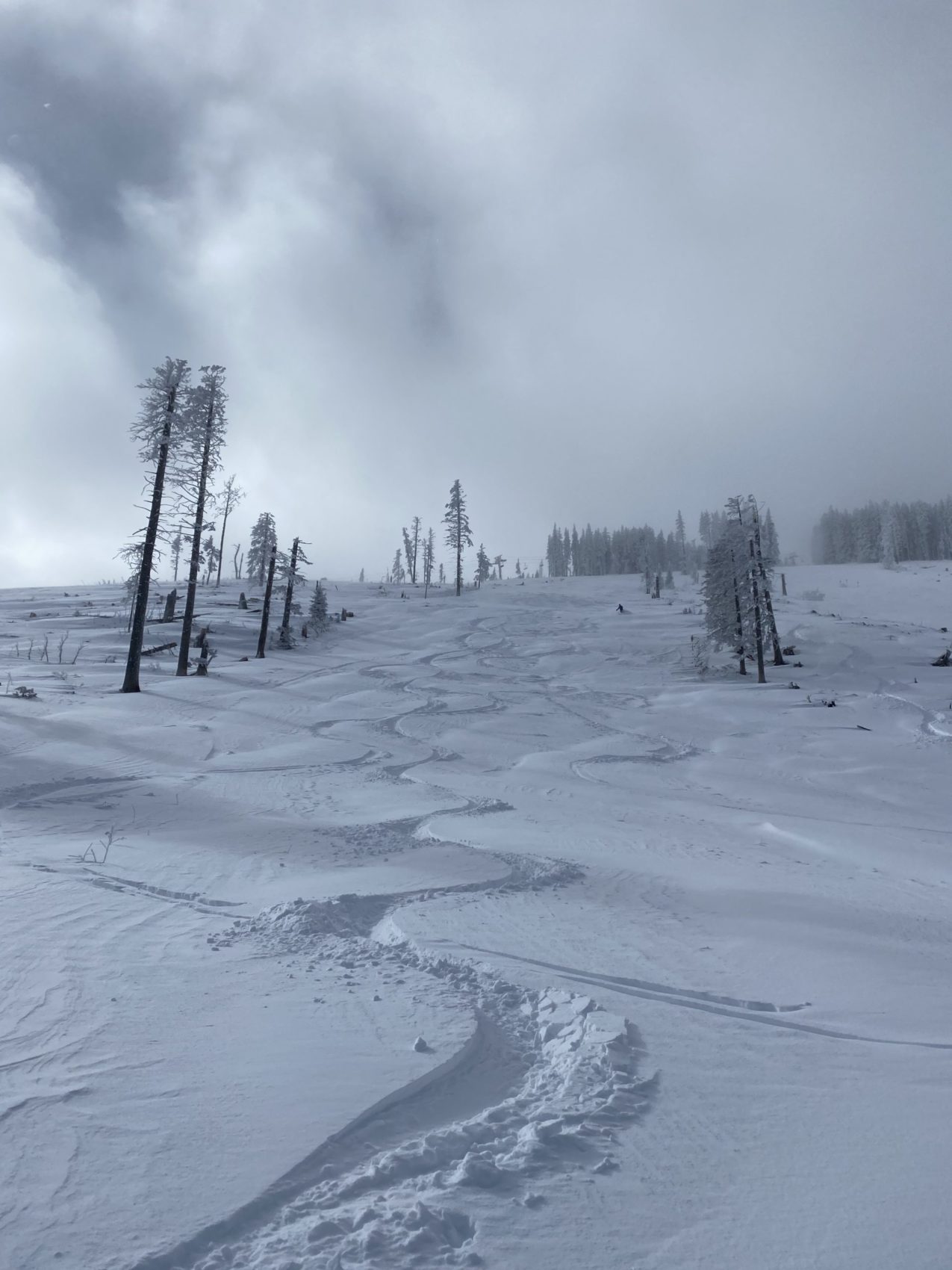 'Roy's Run' at Ski Apache. Photo: SnowBrains.
The skiing at this time flooded me with tidal waves of nostalgia reminding me of epic storms from my past like the historic storm that gifted the Patch with 45 inches of new snow in 24 hours in 2018.
But as time goes by, these existential powder storms that have you questioning what you really want to be doing with your life (besides skiing powder) seem to be less and less frequent. And I personally think Little Bear was to blame.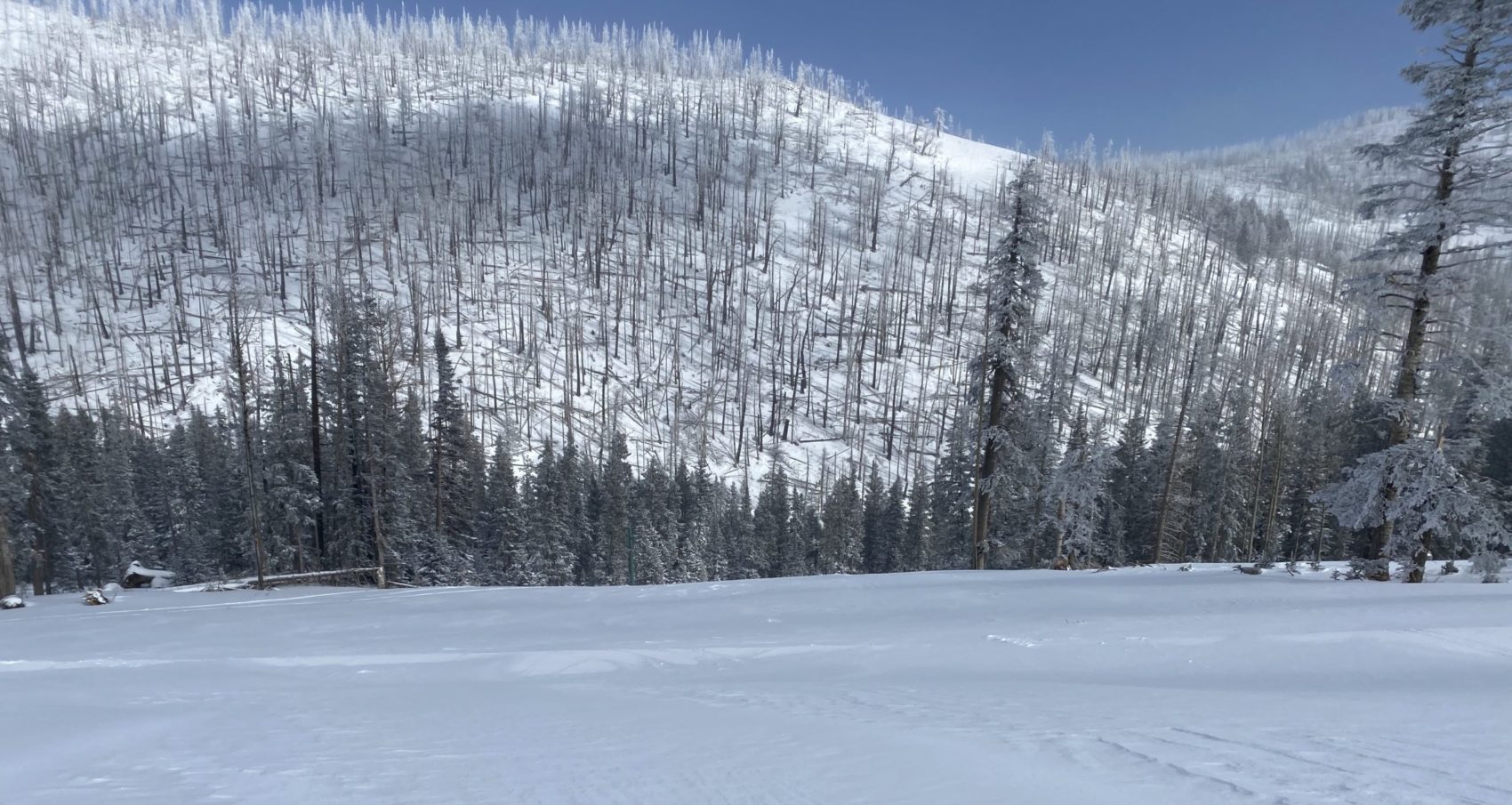 Much of Ski Apache was burned by the Little Bear fire in 2012 and looks like this. Photo: SnowBrains.
The Little Bear Fire burned down 44,330 acres and 254 buildings in June 2012, making it the most destructive wildfire in New Mexico state history.
Ski Apache was right at the epicenter, and the resort has never looked the same since. The once superbly green and densely-forested ski area is now more than 50% burnt with charred trees everywhere. It's hypothesized that the fire lowered oxygen levels in the mountain range severely enough to impact the region's annual snowfall, and I can tell you that I've seen this impact personally. It's heartbreaking. But it's not devastating.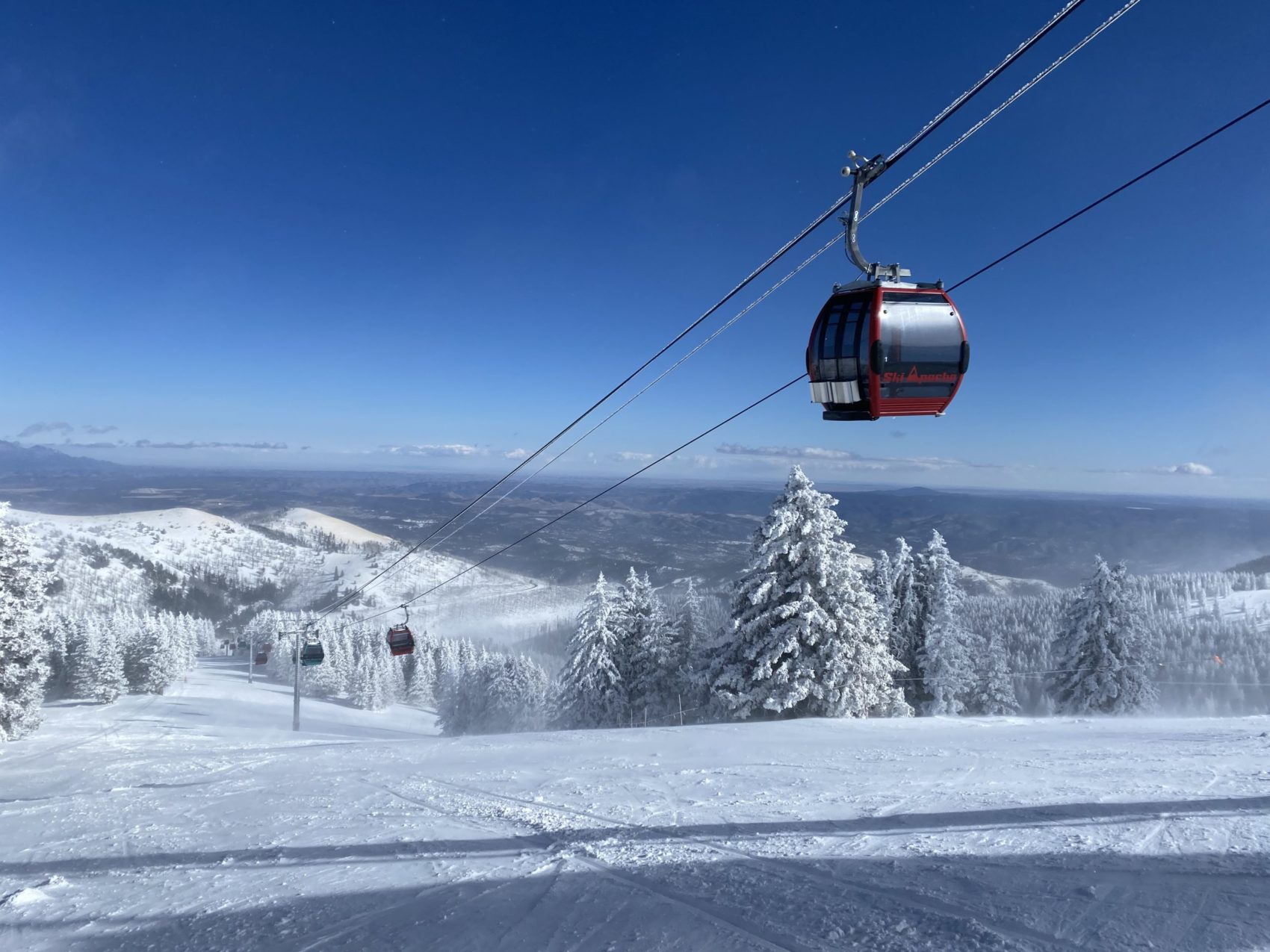 The gondola at Ski Apache. Photo: SnowBrains.
As a result of the fire, we received a brand-spanking-new, high-speed gondola that seats eight and shuttles eager skiers and snowboarders to the top of the mountain in about 15 minutes.
This is a major improvement from the old, cramped four-person gondola that was slower than Christmas.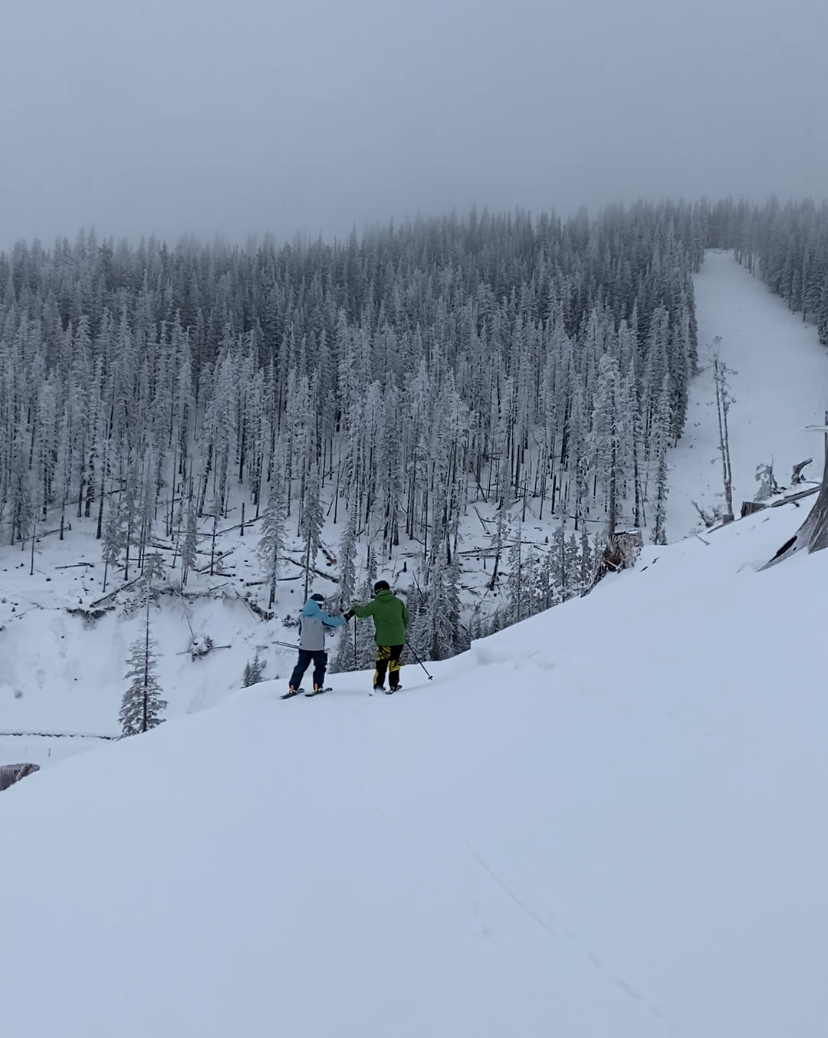 Brothers Alex and Israel Davis exploring 'new' lines in the burnt area at Ski Apache. Photo: SnowBrains.
We've also gotten much more access to a bunch of new lines in the trees that were once too thick to ski through, giving this mountain a whole new face.
You just have to watch out for the lurking stumps that feed on the bottom of your skis, waiting to blow out those old skier's knees. There'd be even more new ski runs too — like the potential for an entire new bowl of skiing in the area located looker's left of the gondola below Apache Bowl and above Lower Deep Freeze — if the resort would just spend the time and money to clear the fallen trees that have laid inside resort boundaries for much too long.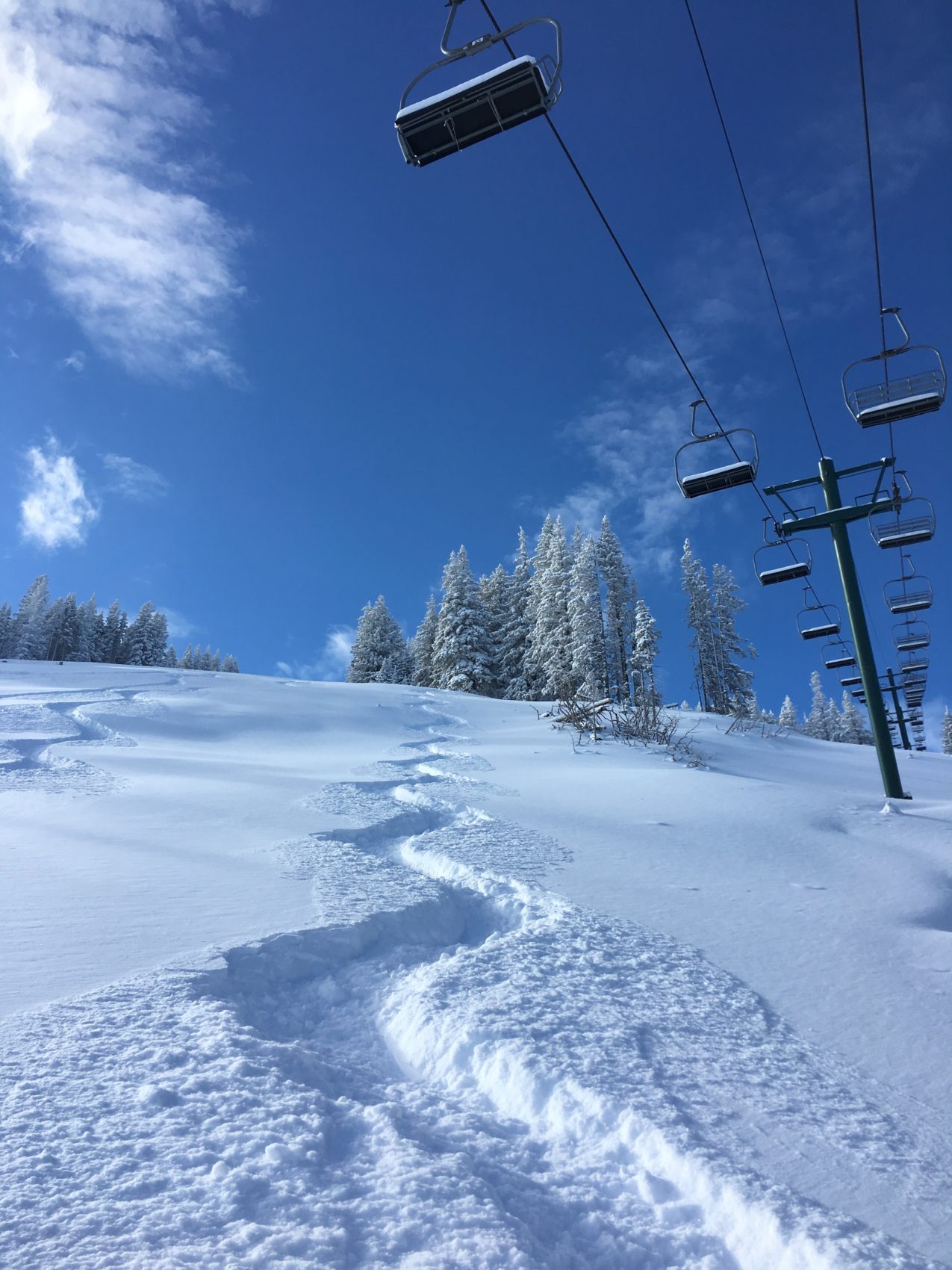 A photo from the historic 45" powder day at the Patch in 2018. Photo: SnowBrains.
It's no secret that Ski Apache faces challenges with the way it is run and operated.
Resort closures due to lack of staffing are frequent, and more often than not chairs that need to be open on powder days are not open because of management-related issues. Also, not to mention that the ski area's jump in pass prices in over $50 from one season to the next has had visitors and locals alike infuriated because an apparent improvement that was supposed to be associated with this pricing increase has yet to be noticed. But I'm not here to dog on Ski Apache — I love this place. It just hurts to see a place with as much potential as the Patch failing to capitalize on it year after year.
The crew and I aboard the gondola at the Patch. Photo: SnowBrains.
So, how would we improve this resort, from the eyes of the local community?
Well, upping the managerial aspects and making sure it is open every day it is
supposed
to be open would be a fine start.
I haven't seen Chair 8 open in years, which it certainly could have been last season if an effort was put in to do so.
Then, you could clear the fallen trees in the middle of the resort to pave the way for more ski runs. Throw in a high-speed quad to replace the painfully slow Chair 1 and some more snowmaking from the top of the mountain — not just Chair 4 and the bunny slopes — and we'd really be talking. But hey, like many of the other locals here who only want to see this place continually improve, I'm a dreamer.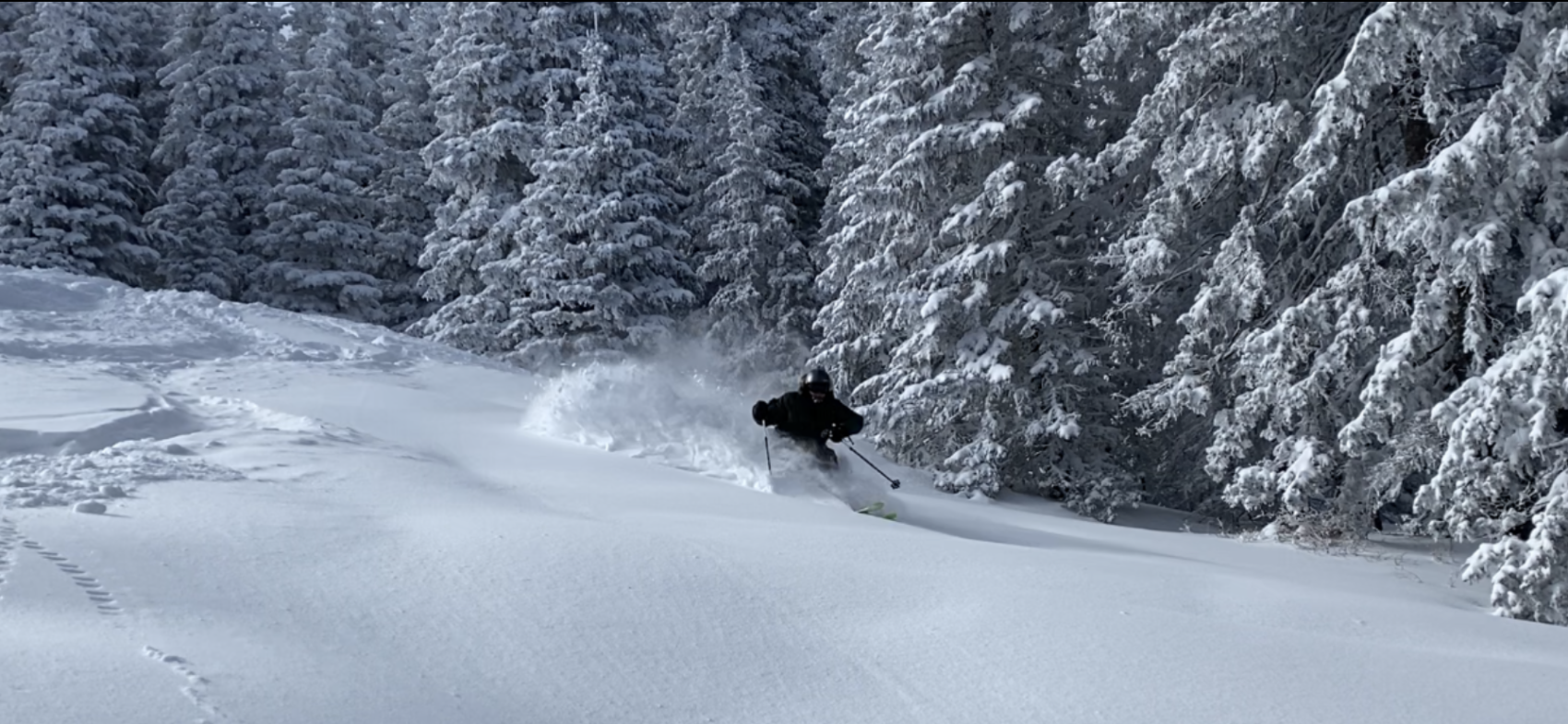 Finding the goods at Ski Apache circa Christmas 2019. Photo: SnowBrains.
Regardless of the challenges and headaches the ski area has to deal with winter after winter, there will never be a place like Ski Apache.
There will never be another place where you can rip the powder-filled 'Fingers' of Apache Bowl with a panoramic backdrop of the desert mountains and the ever-powerful Sierra Blanca peak looming at the resort's side. There will never be a place to me like the Patch where you can have more fun shredding the seemingly locals-only tree runs with your squad that stay good for days on end.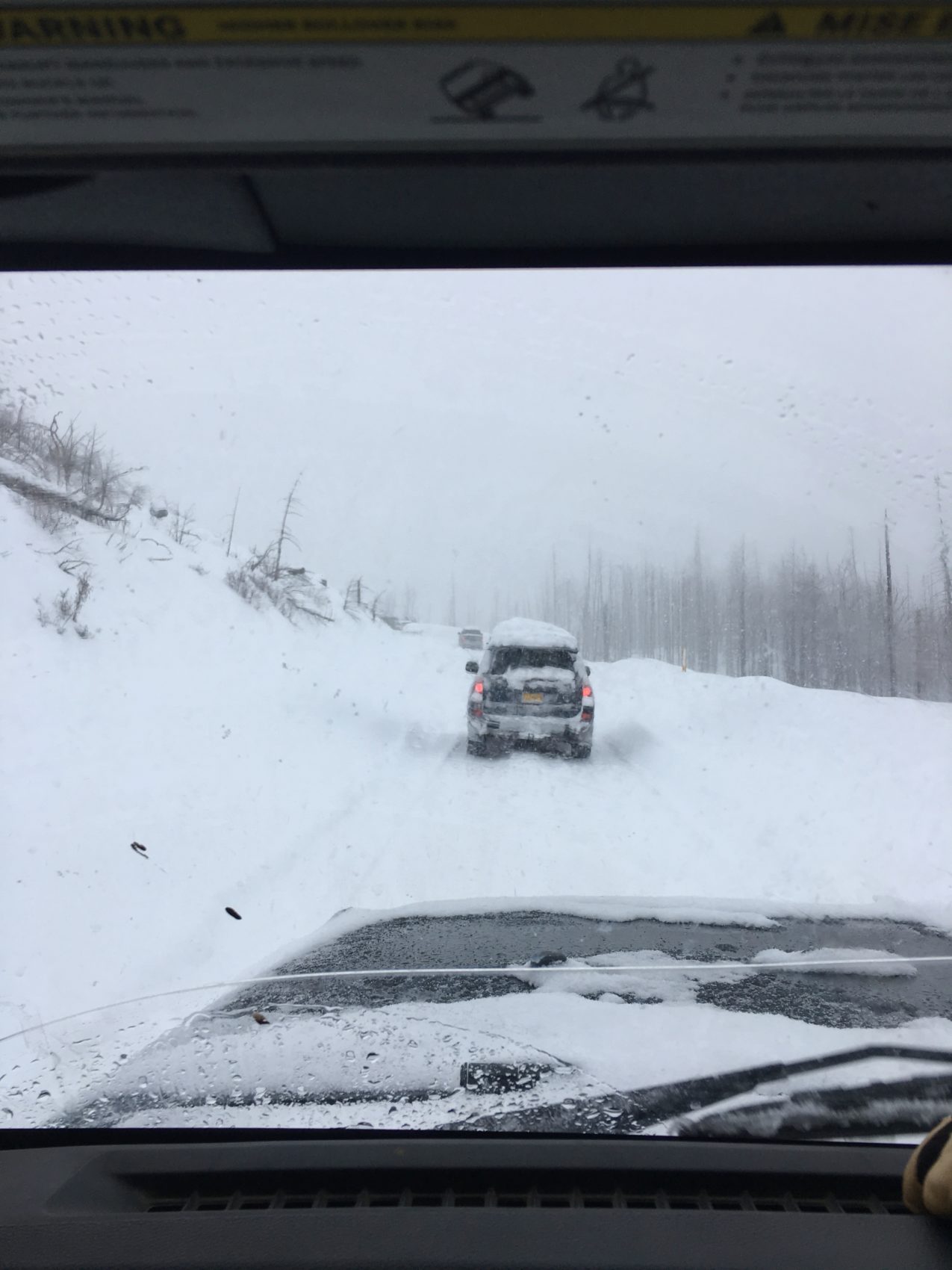 The 12-mile long windy road up to Ski Apache is no joke. Photo: SnowBrains.
Because when the winds whip and the tempests that bring in the occasional 24-hour snow total of 45 inches wreak havoc on this savage land, some may turn around.
They'll turn around in their big pickup trucks to try and beat the treacherous road conditions that suddenly appear on the windy 12-mile road leading up to the top of the mountain, so that they can ski another day, safely.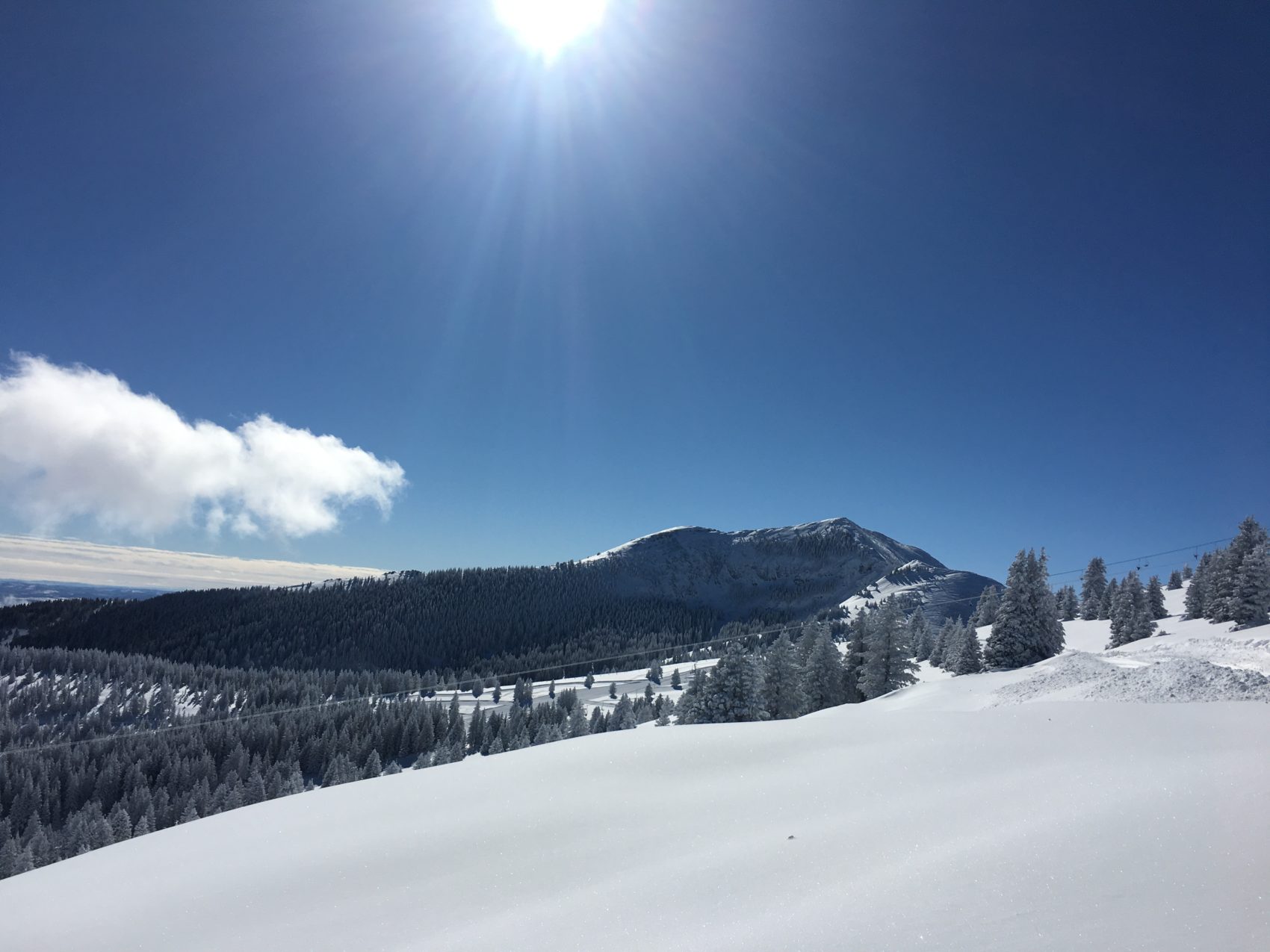 Sierra Blanca. Photo: SnowBrains.
But for us who grew up here, who consider themselves as locals, we don't know any better.
We charge forward and wait in line for the gondola that should have already been opened an hour ago, beyond eager to get our powder fix for the day. Because this is our home, and where else would we want to be skiing?
New Mexico: the Land of Enchantment. Photo: SnowBrains.
Resort Stats
Location
Lincoln County, New Mexico, USA
Nearest major city
Ruidoso, New Mexico
Vertical
1,900 ft (579 m)[1]
Top elevation
11,500 ft (3,500 m)
Base elevation
9,600 ft (2,900 m)[2]
Skiable area
750 acres
Runs
55 total
20% beginner
60% intermediate
20% advanced
Longest run
"Sierra Blanca Trail" ~ 2.5 miles
Lift system
8 total (1 gondola, 3 quad chairs, 4 triple chairs
Terrain parks
2
Website
skiapache.com
PHOTOS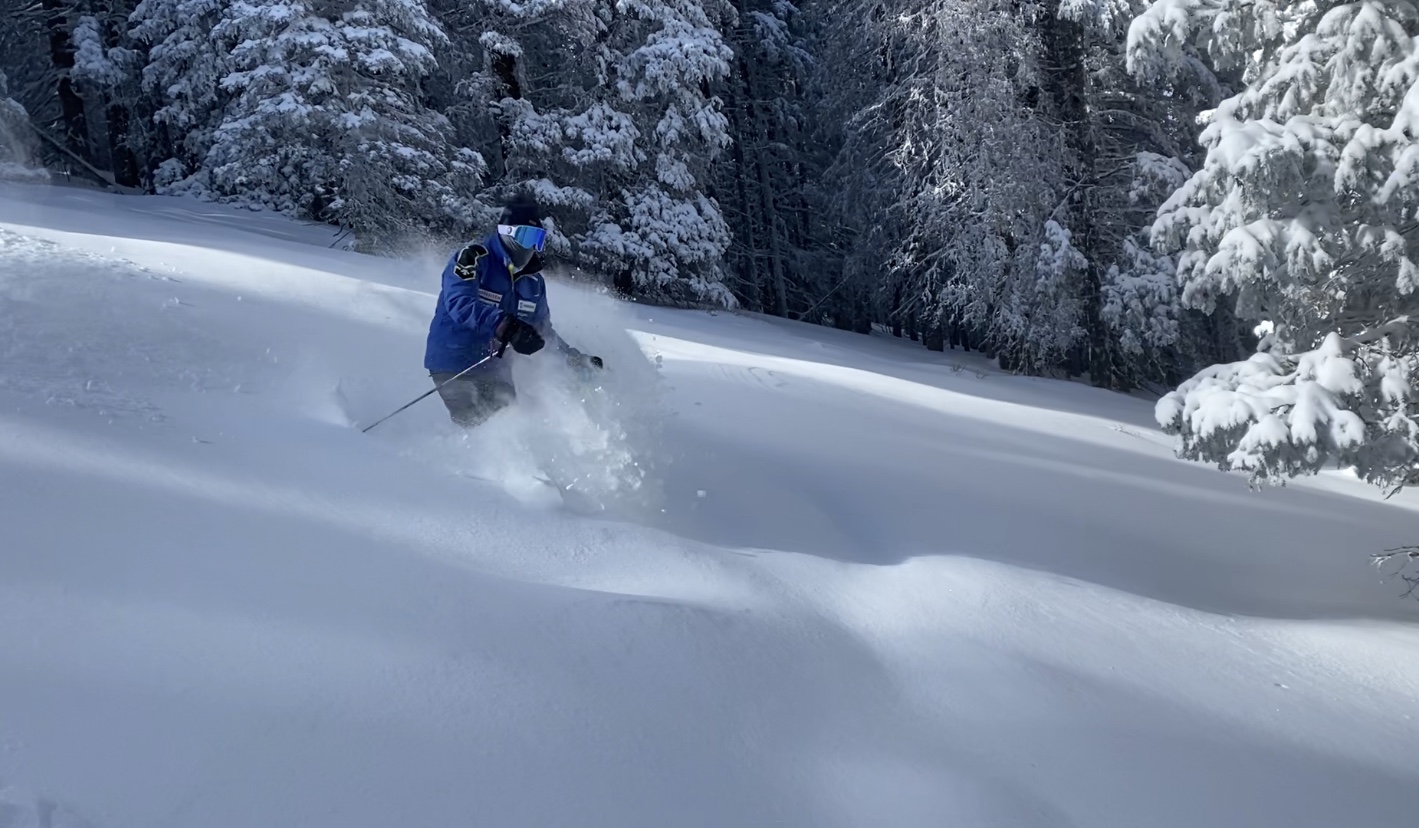 The old man gettin' it at the Patch. Photo: SnowBrains.
The old man gettin' it part two. Photo: SnowBrains
.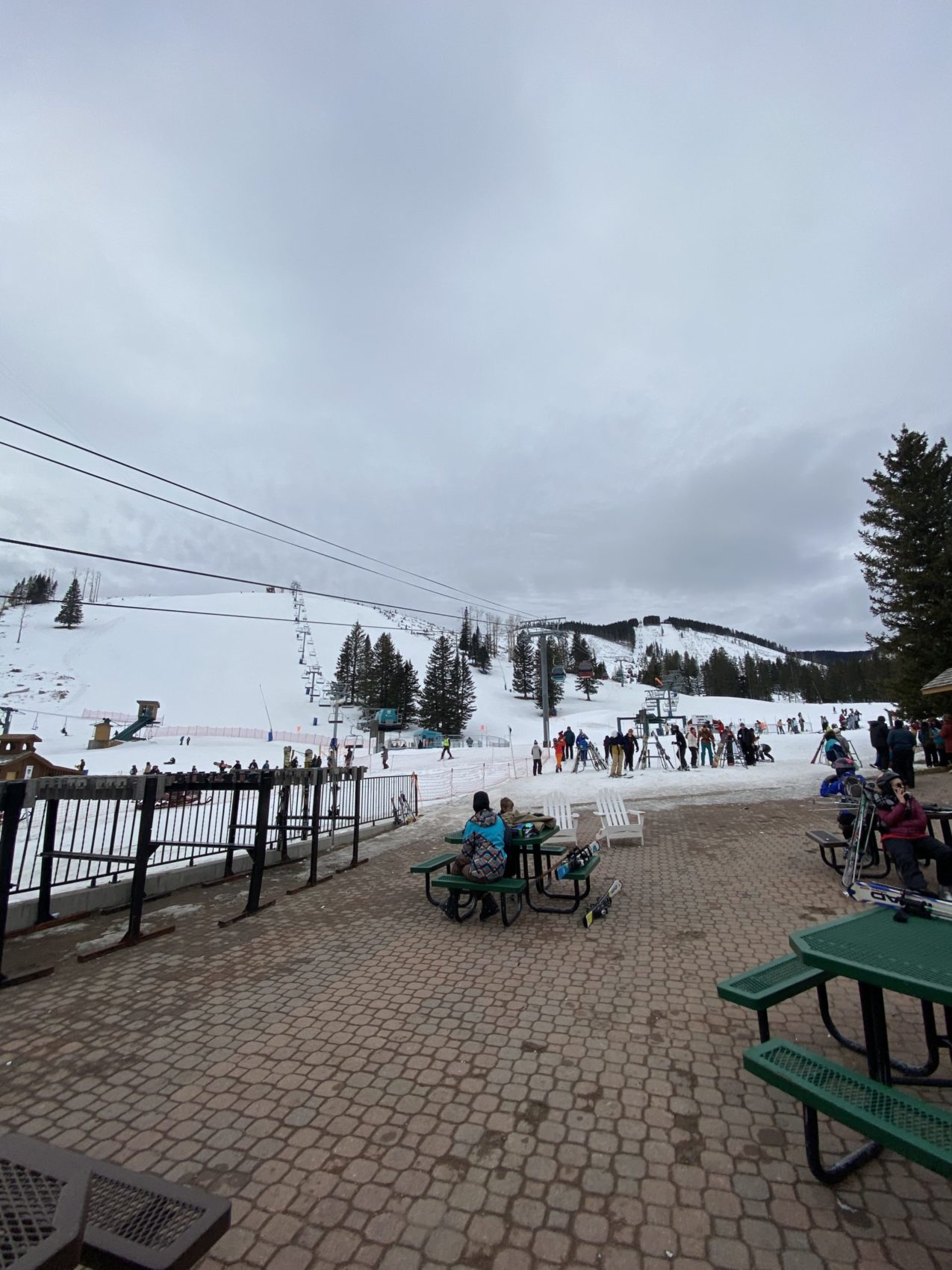 Ski Apache's base area. Photo: SnowBrains.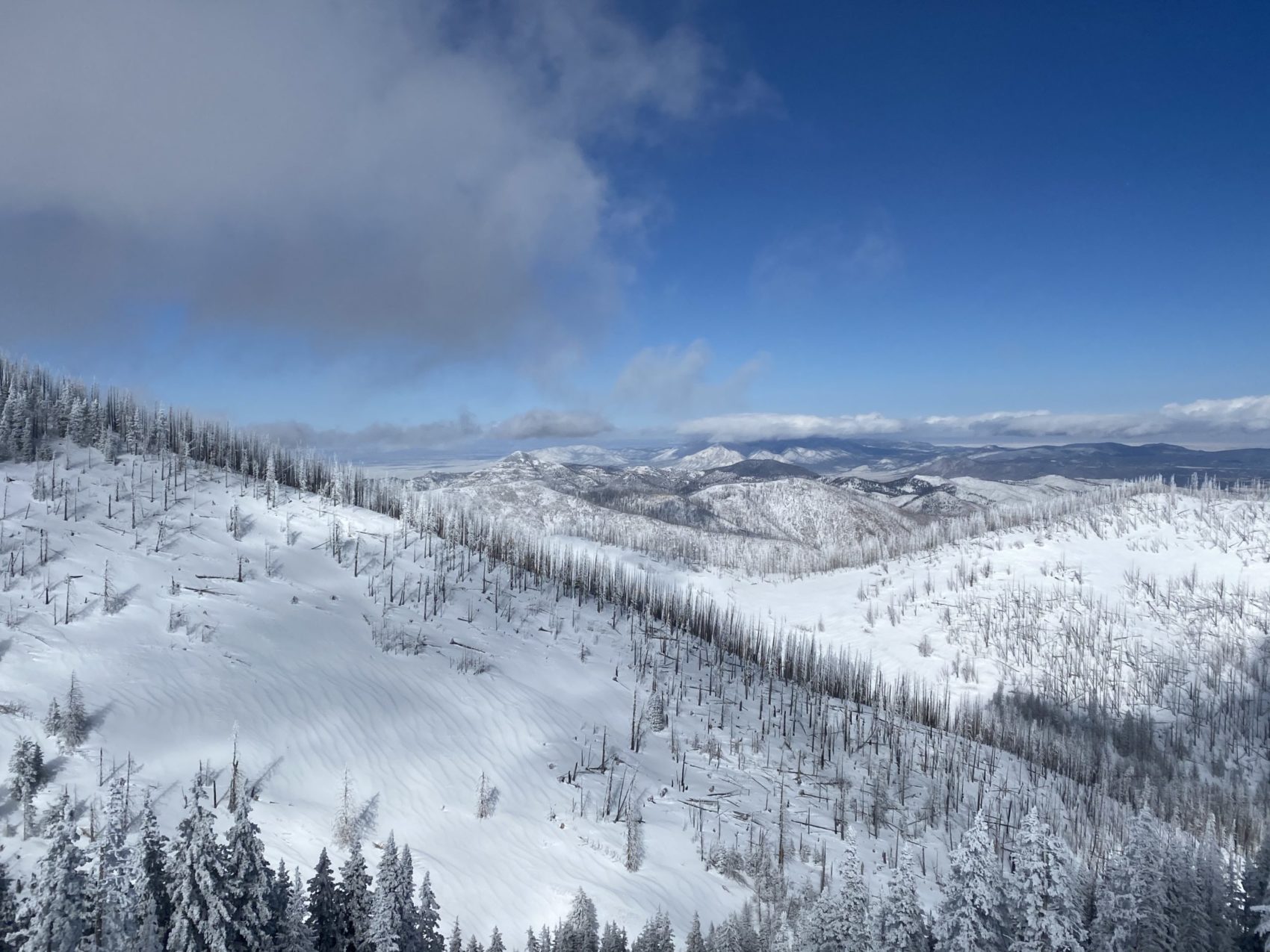 Views from the Patch after a storm. Photo: SnowBrains.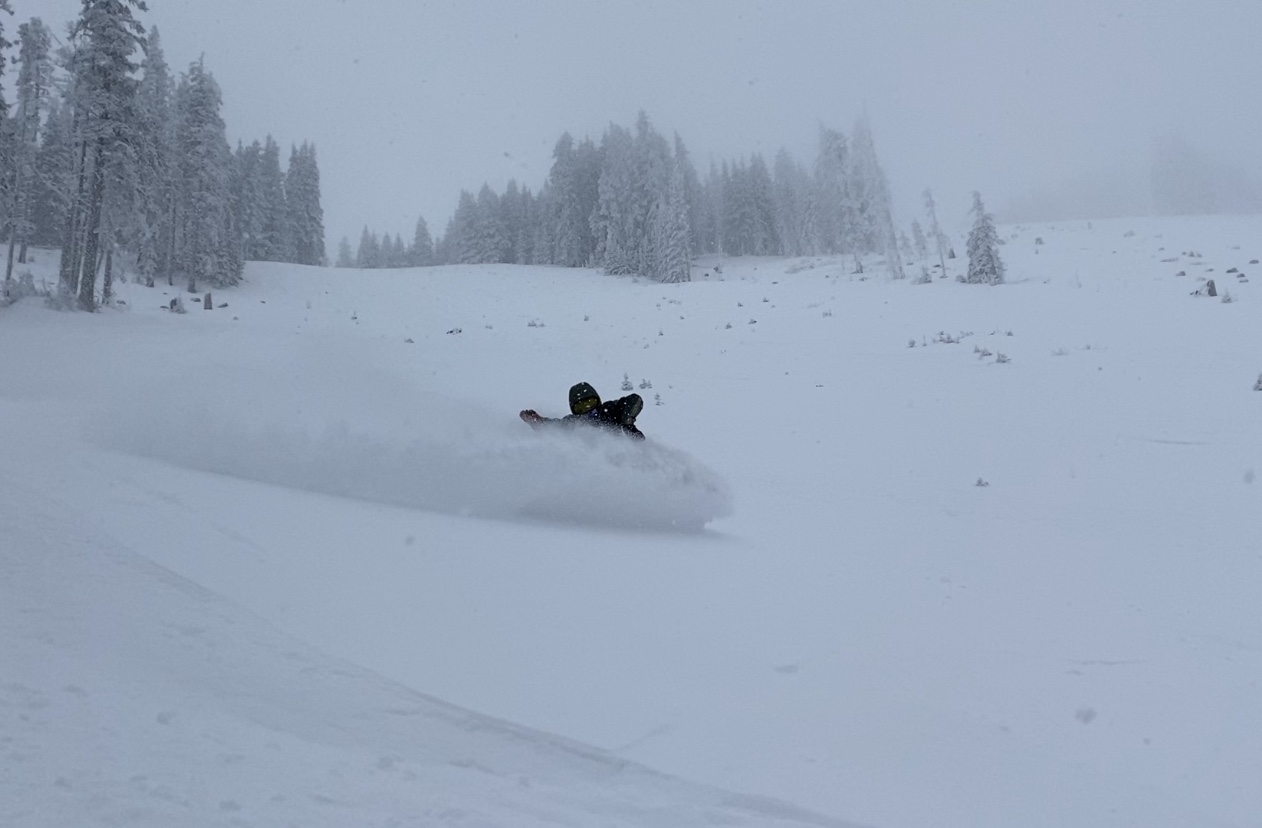 Snowboarder and badass firefighter Gage Whipple slashing hard down 'Incredible.' Photo: SnowBrains.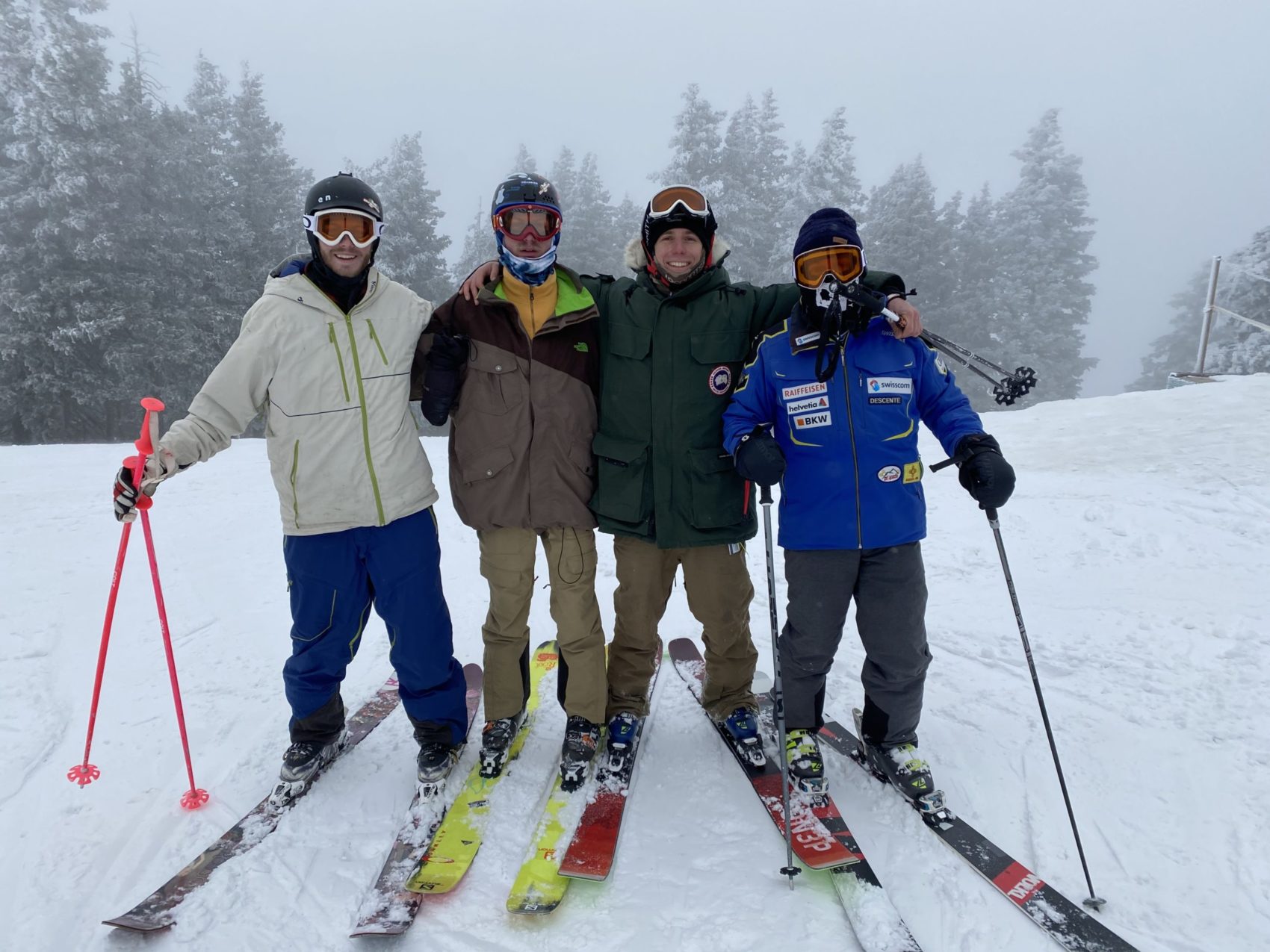 Squad! Photo: SnowBrains.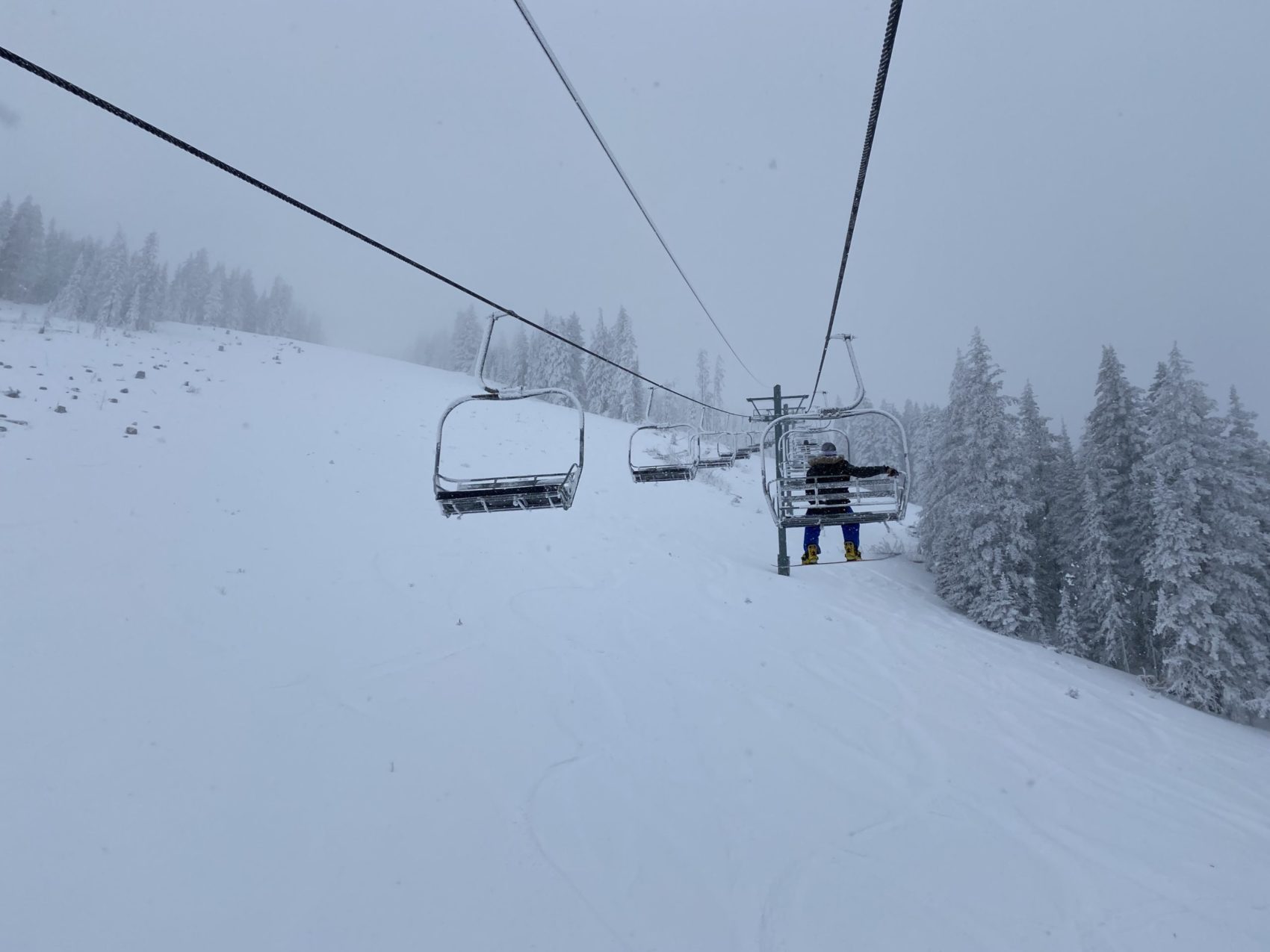 Chair 1. Photo: SnowBrains.