The Wasatch allowed winter to creep back in for a big, nasty storm that hit Snowbird early Thursday and continued on through early Saturday morning. The winter-like storm left 'the Bird' with a total of 18″ of that light, fluffy stuff. I skied every day last weekend and bear witness that winter wasn't through with Snowbird just yet.
On Friday morning 9 inches of new snow was reported at 6 am by Snowbird's snow forecasting department and I hit the road for the mountain. I arrived at 8 am sharp and it was much colder than the springtime conditions I had been skiing there only last week. The mountain had a delayed opening because I guess no one had expected this fat of a dump on May 24th! I was not the only one that morning with the same brilliant idea of skiing some powder as the line at Peruvian was one of the gnarliest I have ever seen.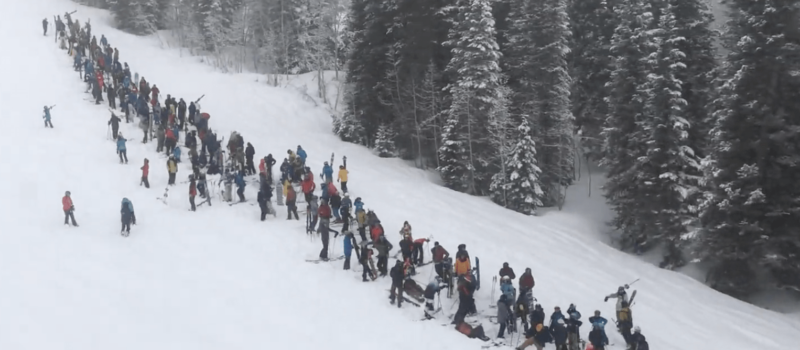 A rare glimpse of what seemed to be every season pass holder at Snowbird in one spot PC: SnowBrains
Hoots and hollers erupted as ski patrol cleared the path to get on the lift and open Peruvian Gultch followed shortly by a swarm of skiers and snowboarders getting on the lift. The snow at the top was well worth the wait and I managed to get my fair share of face shots and powder slashes at the top of Peruvian Gultch where the snow was light and dry.
Mineral Basin looking deep on May 24th PC: Martin Kuprianowicz
The tram remained closed on Friday so the only way to access Mineral Basin when it opened was through the tunnel that runs through the middle of the mountain. As soon as the liftys got the clear to open up the tunnel, an assault of powder-charged skiers and snowboarders stormed the gates. About 70 of us took off down the tunnel as fast as we could, rat-race style. I threw my skis on as quickly as possible and shredded down the lift-line of Mineral Basin for one of the best powder laps I've had all month. The powder was still existentially good and it was definitely deeper than 9″ inches in Mineral Basin.
Skiers and snowboarders racing through the mid-mountain tunnel towards Mineral Basin PC: Martin Kuprianowicz
An outside view of the tunnel being assaulted by pow-crazed riders PC: Martin Kuprianowicz
It snowed throughout the day into Saturday morning which gave us another 5″ of new snow that made for a soft, spring Saturday and a beautiful rest of the holiday weekend. God bless the troops!
Professional ski bum Tom Derks posing with May powder PC: Martin Kuprianowicz