A Squamish local reveals a packed parking lot to a popular hiking destination during a time when everyone should be social distancing. Photo by Squamish RCMP Twitter
A British Columbia resident captured an unnerving image of an exceptionally packed parking lot near a popular hiking area in the outdoor recreation destination of Squamish, B.C. last Friday.
The photo was taken after all of Canada has been asked to practice social distancing measures due to the COVID-19 crisis. It shows that not everyone is listening to nationwide mandates aimed at stopping the spread of the virus.
The resident told a local publication, The Squamish Chief, that they counted up to 200 people climbing a metal ladder with bare hands.
We know now that the coronavirus can linger for several hours to days on surfaces according to several new studies, like one published in
the New England Journal of Medicine.
Squamish RCMP tweeted photos of full parking lots, calling the scenes "unsettling."
B.C. has declared a state of emergency over the spread of the virus
. Last Friday, March 20, B.C. Parks announced that due to COVID-19, most campgrounds and accommodations will be closed until at least April 30,
Pique News Magazine
reports.
As of Saturday, March 21, 2020 there are 424 cases of COVID-19 in B.C. where 10 have died and six have recovered.
"To most effectively flatten the curve, and break the chain of transmission, we need everyone to take action at the onset stage. That is why we have put public gathering orders and social distancing measures in place now – to protect us in the weeks ahead," Minister of Health Adrian Dix and B.C.'s provincial health officer Dr. Bonnie Henry, said in a joint statement sent out on Saturday.
The time to stay home as much as possible and to distance yourselves from others when outside is now as the world combats this invisible enemy.
Flatten the curve!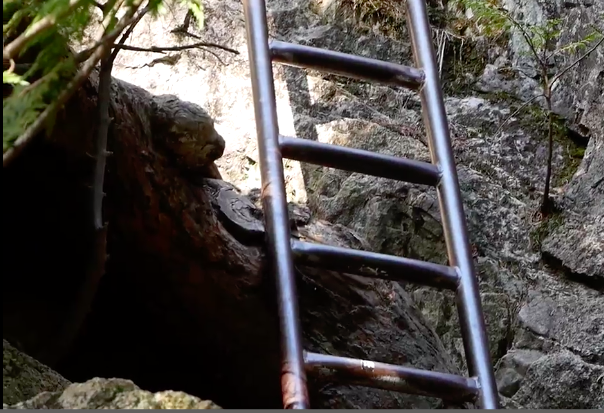 Leigh McClurg witnessed dozens of people going up this ladder with bare hands. Photo taken from Leigh McClurg's video.