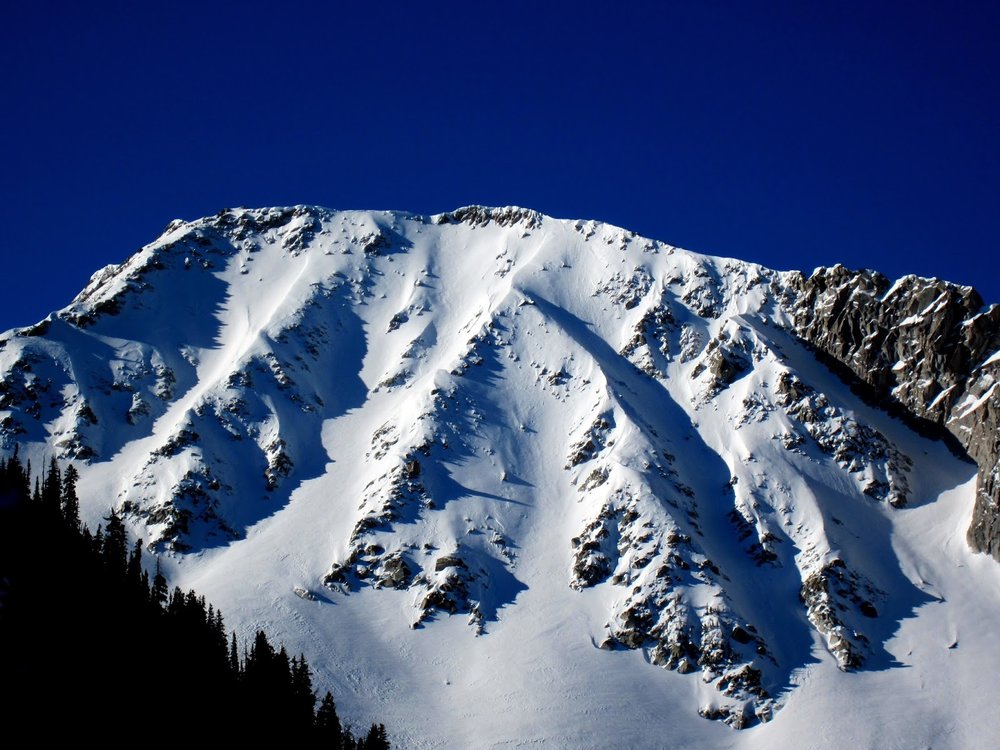 A skier unintentionally triggered a soft slab avalanche in the Coalpit Headwall last Friday, Feb. 21. Photo:
UtahTransplants
Last Friday, Feb. 21 a skier unintentionally triggered a soft slab avalanche on a Northeast aspect at 10,400 feet on the Coalpit Headwall in Little Cottonwood Canyon, UT.
The avalanche danger in the Salt Lake area mountains this day was
LOW
. The slide was about 35 feet wide and carried one person without burying him. This is the skier's detailed first-person account provided by the
UAC
:
I made a bad choice.

Skier 1 (myself) dropped into the Coalpit headwall performing a ski cut to a safe sub-ridge with manageable sluffing that proceeded down the ski line. I then skied the headwall about 1/3 down and stopped skier's right on a sub-ridge dividing two of the lines. Skiers 2 and 3 skied from the top to me then proceeded to continue down to safety towards the bottom. Prior to skier 3 leaving me, we talked that I would go right into the next line. This is my bad choice letting skier 3 leave before I headed into the other line because I became a solo skier at this point not visible to my party. I did a ski cut at the top without any release. 3 turns in I was part of nature and sliding on my side head uphill with snow rushing around me and behind me. I hit rocks with my skis then bounced off one with my hip. I did yell hoping my party could here me but to no avail. I came to a stop about 150 feet down from the initiation point on the bed surface, and watched the toe of the slide proceed another 460 feet below. I was able to stand right up, didn't lose anything, and ski down the soft avalanche debris to my group, on my one good ski, around the cliffs and regroup. Broke a ski, bruised a hip, and am lucky.

Soft slab that broke at my feet but knocked me down in the process. Couldn't tell you how deep. About 35 feet wide and ran about 600 total feet.

I wasn't going to post anything but here it is. I don't regret where I skied or the slide but I do regret skiing where my partners couldn't watch out for me. If I had been buried they would have had no idea and by the time they figured it out it likely would have been too late.

Please make better choices than I did.
Coalpit is one of the biggest and most classic lines in the Wasatch with a beautiful, steep headwall, glades, a windy gully, and nearly 5,000 vertical feet of drop.
It is a favorite among backcountry skiers in Utah. Unfortunately, last Friday the conditions were unfavorable and a skier-triggered avalanche was released, proving the ferocity of this gorgeous zone. Thankfully, the skier lived to tell the tale, allowing us to learn from his experience.
An intentionally triggered soft slab avalanche in Hogum Fork, Friday, Feb. 21. Photo:
UAC
On the same day, another avalanche was triggered in Hogum Fork on an east aspect at 9,400 feet.
It was an intentionally triggered, 30 foot wide, 18-inch deep soft slab avalanche. The skier who triggered it said in a
comment,
Intentional ski cuts in small wind loaded terrain yielded multiple small avalanches. Consistently saw poor snow structure on higher east face aspects. Both hard and soft wind slabs that ran on the feb. 7 crust. Seems steep east facing lines should be approached with caution.
Stay safe out there!
Avalanche Forecast for Saturday, Feb. 22. Photo: UAC